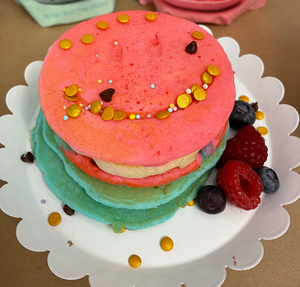 Our pancake bar has everything you can dream about when creating the ultimate pancake. We set up the bar with our smile waffle maker and skillet paired with pink, blue, and natural pancake batters! 
Guests can add sweet and savory toppings to their pancakes with items like strawberries, blueberries, bananas, raspberries, chocolate chips, whip cream, Nutella, and sprinkles! 
Complete your breakfast by enjoying fresh squeezed orange juice or our strawberry and chocolate milk. Yum!